https://goo.gl/maps/Dn7qiXH6a7E2
Hi Garden Gnomes it is Summer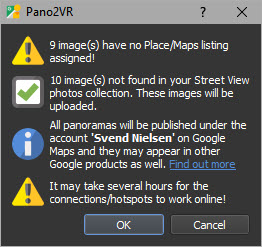 9image (s) have no Place/Maps listing
assigned!
10 image(s) not found in your Street View
photos collection. These images will be
uploaded.
All panoramas will be published under the
account 'Svend Nielsen' on Google
Maps and they may appear in other
Google products as well.
It may take several hours for the
connections/hotspots to work online!
here it actuarily loads in seconds if i get it right from start
only placing the first image works, then it will be the first to show up
Unnaryds Lantmän
but the 9 linked images are place named by Google
Hylte Ö
will it change name later to Unnaryds Lantmän
THE BLUE DODDS ARE THERE ON THE MAP
Regards Svendus